~So don't cry to me ohhh baby. Your future is in a Oblong Box!~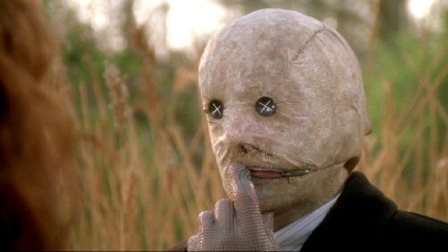 Oh look. We lost. They got the titles. They got everything. They're flying high now...
hehehe...
ahahhahaha....
AHAHAHAHAHHAHAHAHAHHAHAH!!! I'm sorry. Did you fucking really god damn think that it's that fucking simple? How fucking god damn stupid are you? I mean I know Ducebag is a bit slow on the uptake with how he fucking talks, but you guys aren't that dense are you.
This was never about the belts.
Right now, you feel on top of the world. Right now, everyone's drinking the kool aid. Right now...you're flying high now Rocky.
And you're about to get knocked the fuck out!
But which one do I murder first?
Ennie...Meanie...Miney...You!

We fade in on Ataxia's Lair. We see headstones all around. Some adorned. Some just simple cardboard. Names written upon each of them. One in particular is of interest. We see Jace Valentine's name as Ataxia is shown shoveling dirt into the hole. Ataxia turns to us, wearing his top hat and long coat of raven feathers along with his usual mask and suit. He tips his hat as he holds up two coins.
Ataxia: So here we have the latest one. You know it's funny. People like to talk shit about me, but here I stand...and there he fell. Oh not by my hand. No. No. But merely the fact of as I am the last man standing. You can look around here...
We see a headstone for Elijah, Cain, Dan Highlander, and many others...we see one for Javis King that has a spring out of the hole. We cut back to Ataxia who winks.
Ataxia: Oh that one we will get to in a moment...you see...Jace...never say I never gave you anything. This would be symbolism, but considering my opponents this week they wouldn't get it because it doesn't have glass, ceiling, bitches, or titles. No. This is meant for the ferryman. Even after all you've done you deserve to be buried where you needed to be. I can't say that I envy where you are going thou. Because hell is probably a highlight compared to what I would have put you throu. I'll just have to settle for you three assassins there.
Ataxia tosses in the coins and throws some more dirt onto the grave. Ataxia picks up a red lighted lantern and picks up the shovel. He heads over to Jarvis King's opened grave and walks over it for a moment.
Ataxia: Oh...did you get a chill...AHAHAHAHHAHA...
Ataxia smiles as he plays with the spring coil for a moment.
Ataxia: This one. This one just doesn't stay down does he?
Ataxia goes to the side of the grave and pulls out a crank and puts it into the headstone and starts winding it up like a old jack in the box with that "pop goes the weasel" music. The spring goes under the dirt and Ataxia starts filling the grave back up.
Ataxia: You see this one. This so called champion. This so called legend...is someone who when the going gets tough...well he comes here. You see Jarvis. You can talk all the shit you want about me being a former world champion. And who I lost to. And who you beat. And who no one gives a flying fuck about your records man. Oh, they care about Jarvis King when he has a belt. They care about remembering those glory days. Those days. Literally days. Not months. Not years. Days. And every day you have that title I have to wonder. Howse your anxiety. I mean right now you guys have everything except the world title. Now I could strip you all of those belts. I could. I could tear that belt from you. Oh I'd piss off the fans, but...
Ataxia winks at the camera and then pops his knuckles as he gets back to burying Jarvis.
Ataxia: You see. I could do all of those things. No one would think less of me. After all. What you and your cronies are a part of makes it personal. Tell me Jarvis. When have I ever got personal. Like really personal? Have you ever seen that in all your many day trips to CWF? No. Because you have never been around when I get serious. So I want you to know something. Rather or not you were a definite part of what happened with Mia. That doesn't mean I'm going to be nice to you. That doesn't mean I'm going to let you off easy because we are old "frands". No. no...no...You see deep down you think that you are on top of the world, but what I've really done here Jarvis. Is set you a trap. Tell me...how did it feel when you beat all of us only to lose in the match for the number one contendership? I mean really...I'm surprised you stuck around after that. The only thing that kept you here after losing that match...was that belt.
Ataxia looks around for something on the ground and then continues.
Ataxia: You know how it is...you put something here and you never can find it when you need it. I'm sure it's...Oh where was I? Oh yes. Sorry I go off on tangents. You go away for six months. I mean it's really kind of fucking childish. Oh there we go. Now. Tell me something. You got the Paramount Title, but isn't that just really safe for you. I mean where is the challenge to MJF? Oh wait. It's you. If I do that. You're gone. Because the second Jarvis King loses the big one. Jarvis King runs away. Where as...if I lose...I still win. I keep coming back like your herpes flare up Ian kept telling us about Jarvy...
Ataxia leans back and looks down at a can that says "Ian King" on it. Ataxia kicks the can.
Ataxia: Sorry. Something that matters even less than you do. You see. I know who you really are Jarvis King. You fly high and then you burn out. Then you go away. You heal up your wounds. Then you come back and surprise everyone because you're fresh. It's an interesting tactic. And it works...for a while. Then you start getting the wear and tear on your body. You see where as I'm use to getting my ass kicked. You...you're not. So eventually if I keep feeding you to everyone that I want to...I'm going to wear you out, and then well...
Ataxia gestures to the now covered grave.
Ataxia: Except this time Jarvis...when you lose that belt. When you lose your reason for being here. There will be no world title shot. There will be no match with any of your old rivals. There will be no fan fair. I will place you to curtain jerk with Silas Atoria, Azreal, and anyone else my heart desires until you beg me to let you out of your contract. You see I don't have to be stronger, faster, or even smarter than you...I mean I am obviously, but I don't have to be...I just have to wait for you to fail. Then you'll go back here. Except this time...
Ataxia picks up a bloodied hatchet and slams it into the fresh dirt.
Ataxia: I'm going to make sure you stay dead fuckface! AHAHAHAHAHAHAHAH!!!!...
Fade out for now...

One little GC crying like a bitch.

Called him out on all his bullshit.

Thinks he's won, but now he knows... I've got his ass hanging by his toes.

We fade in on Ataxia's lair as he walks around and heads into one of the buildings. It's a hall of mirrors. As we walk we see Ataxia's face and body change depending on the mirror. It stops in front of one that says "Shadow" on it, and suddenly Ataxia is standing there in the mirror, but unmasked with Shadow's face as a latex mask over his body. Ataxia waves and high fives the mirror as he walks further. He goes past "Silas" and we see a cockatoo.
Silas ACKtoria: WORLD TITLE! WORLD TITLE!!
Ataxia: Give him a shot and he still won't shut the fuck up.
Ataxia walks past the bird after handing him a cracker and then he stops in front of Duce Jones. We see the latex masked form of Ataxia as Duce Jones, except he's wearing a pair of overalls and a John Deere hat. Ataxia cocks and eyebrow and points to this mirror.
Ataxia: Now this one. This one here is a bit interesting. This one use to be this...
Redneck Jones is joined by another masked Duce Jones who wears what Duce normally wears in the ring, plus a jacket to cover his arms. The two look at each other and then look at Ataxia.
Ataxia: And now he's Paula Deen on crack...da fuck? I mean if I didn't know any better I'd say we got a genuine freak on our hands or someone is acting crazy. Now me...I don't know if he's acting sane or not. I mean just look at that face. That dumb face. A face only a psychiatrist, or someone with low fucking standards would fuck. That thing right there use to be a world champion, but he seems to be having an identity crisis. I mean I would care. It would matter. If he was going to be alive much longer. You see as it stands right now...This one, two...or twelve who knows...This reinvented walking talking gimmick is in the bitch position of the stable. Oh it's true. You see once a partner wins a singles title the focus shifts to him. And he...well...he's a bit more...what's the word we are looking for here. Out of all three of you Fred just seems to have it together more. Heh...that should really tell you my opinion of your sanity clause there.
Redneck Jones: You can't fuul us gawt dangit der aint no Sanity Claus.
Regular Duce facepalms and Ataxia reaches into his pocket and pulls out a gun and shoots Redneck Jones in the head...Redneck Jones crosses his eyes and looks at the hole.
Redneck Jones: Tank ye...I got a new hole ta fuck...
Ataxia just unloads on the poor fabrication. The regular Duce sighs and picks him up.
Ataxia: See you in a few months when you get tired of talking like Bo and Luke Duke's love child.
Regular Duce flips him off. Ataxia returns the favor with eighty arms and then bitchsmacks Regular Duce like shiva and then walks away from the mirror.
Ataxia: This tangent brought to you by why my promos are more entertaining than all of yours put together. You see. It's like this. I couldn't have planned it better. Fred has two belts. Jarvis has the midcard curtain jerker belt...and you are just the plus one. Now tell me former world champ...am I really the one that keeps falling when I keep getting, requested mind you, to keep facing MJF and you can't even qualify? Now some of that maybe my prejudice. Some of it maybe that you just can't cut it. Maybe you got one to many screws loose in your head. I mean in reality Duce I have to ask you. Depending on the day are you a world champion or someone's plus one? See...I know one of those days you aren't going to be able to cut it. Then it's gonna cost you those belts. There is a reason I booked Freddie in that match. Freddie still has a hunger. Freddie still has something to prove. You just rest on your laurels.
Ataxia stops and thinks for a minute.
Ataxia: To big of a fucking word I'm sorry. You rest on your ballsack and hope no one notices. You see. I've noticed how lazy you have gotten. Going with quick fixes. I mean you turned on Jace! You buried the guy who actually had a chance of defeating me in the long run because you got jealous. I mean...how long until Jarvis gets...oh wait, he'd have to stick around. So it's only going to be a matter of time until you lose those belts and then you are out of the spotlight. Well to stay in it instead of working hard you beat up a poor defenseless woman...so the next logical target is going to be the biggest bitch we know. Hi Fred.
Ataxia waves at the Freddie Styles mirror, but we don't see anyone in it.
Ataxia: Hmmm...Now if I was that guy in a Styles mask what would I do...Oh yeah. I wouldn't be making an appearance in this promo. I'd be hiding somewhere because I don't want to be sociable. I mean "The Foresaken" has their problems. We have our issues. I'm currently hiding out here because if I go into the real world I'm probably going to go and shoot someone in the face to find my beloved Mia. You know it's really funny. I could really ask you a question Duce.
Ataxia holds up a picture that we can't see the front of just the back.
Ataxia: What if I took out someone important to you? How would you react? How would you keep from snapping. Now...right now. I've spent a lot of my own money to try and find Mia. I've done everything legal and a few things illegal to find her, and the only thing keeping me sane at the moment is the thought of how bad this is going to be when shit hits the fan for your little team. See right now...after your little stunt I don't know who'd be dumb enough to join your three. No one really. Who wants to end up like Jace...no one on this roster, plus no one wants to be on that much of my shit list. Even Silas is smarter than that, but you leave me with an interesting predicament. Should I cross that line?
The picture catches on fire.
Ataxia: Since you like to take people's masks...maybe I should let you take mine. Maybe I should let you see the real me. The one you don't want to meet in the dark alley. No worries Duce...I promise you. You aren't going to get him. You aren't going to get the one that you really fear. It's not anyone who you've seen before because even that face is one that the fore-bearers of my mask wanted bury. Every last one of them. No worries Duce...I got something for your ass...
We watch the photo fall and the only figure that hasn't burned up is Duce, but the rest are blacked out.
Ataxia: After I'm done destroying your career...you better hope Mia's been found by then...because if not Duce...
We cut back to Duce's Funhouse Mirror as it shatters...
Ataxia: I'll beat you so bad the only name you'll remember is mine...AHAHAHHAHAHHAH....
We fade for now...

Two thirds are turds, but what of the third...

Can he handle the truth that must be heard?

What madness can be unleashed...

From the "saniest" one of the ceiling...

We fade in on Ataxia' Lair, and then time it's a room with a lot of manikin heads. Each one wearing a unique face. We keep panning until we find one that stands out. It's the bag mask of Ataxia. We pan back just a bit and we see the back of Ataxia. Unmasked. With his back to us as he works on something.
Ataxia: Snip snip here...clip clip there...and then some brand new straw...
He keeps whistling the merry old land of oz for a few more moments as we hear the timber of his voice drop. It's almost...normal...not that manic tone we normally hear.
Ataxia: You know. Out of all of them you disappoint me the most. You worked the hardest. You did the best you could with what you had. You had so much potential. And you throw it all away. For what? For Duce it makes sense. He wants to get back on top and the best way to do that is to make an impact. He's reckless. He's spastic. I expected something like this from him, but I didn't expect it to be Mia. I honestly figured you two would be smarter. You beat up the girl? Why? To get to me? That was a mistake. You should have taken me out. You should have put me in the hospital bed. Taken my mask. It would have made more sense. She might not have been able to take it. Then you would have just had Shadow and Dorian without me to deal with...Tell me...did you really think this thru or was it Jace's idea?
Ataxia turns just slightly. We still can't see his real face, but we do get a brief white outline of skin.
Ataxia: I'm going to assume it was his idea. Jarvis is dumb enough to think this is a good idea because he wants the spotlight. You want to be in the world title area. You know what's funny Freddie. My plans before you and Duce did this was to put you in a threeway against MJF down the line. Oh what's that? Giving you a shot because you earned it because you impressed me? Unheard of right? I had politics we had to work thru, but if you had been patient. You would have gotten where you wanted to go eventually. But you did this, and you got your reward. You got your belts...hehehehhe...
Ataxia stiffles his laughter for a minute as he continues to work.
Ataxia: Or at least. That's what you assumed. You see. You all think that you have me. You all think that I'm predictable now. That I am taking this personally. You haven't seen personal yet, but you are about to. You see Freddie. I'm not above playing the long game. There is more to this game than titles. Right now if you were to look at the GC...what do you see...world championship material in all three. No one ever counts you out. Truly. They'll say that they do. But they don't. You're the workhorse. You always were. I know, because in a way...it makes us the same. I guess in a way...what I'm going to do to you is also the same. You took someone from me. Do you know how hard it is to be me? To never show your real face. To always have a barrier between you and the rest of the world. I think, last week, we had a moment. Where I saw it shatter a bit. I wonder Freddie...just how are you going to handle it...when I bust your god damn facade wide open! You think you are riding high...that's going to make the fall that much fucking sweater. I'm not here to play. I'm not here to have fun. I'm not here to take any belts off of you and your team...
The camera zooms in as Ataxia turns, and all we see is the white and black facepainted eye areas with those red pupils.
Ataxia: I'm here to shatter glass...AHAHAHHAHAHAHAHHAHA!!!!
We fade out to a picture of Mia and the doll that Loki vandalized...

Fin